Data source configuration
---
Qbo allows users to have conversational access to data in a relational database without needing to know SQL. Qbo has a unique process for understanding the contents of a database, deciding the kinds of queries that can be asked, exposing the possible queries to the end-user through auto-completions and auto-suggestions, and training natural language processing to understand users' utterances in the context of the data present in the database. Most of this process is automated, but it still benefits from information and hints about the data model from a developer or data architect.
Qbo supports a wide variety of queries on relational databases utilizing all common SQL constructs, including SELECT, WHERE, GROUP BY, ORDER BY, LIMIT, JOIN, AND, OR, NOT, LIKE, HAVING, and UNION. It supports date related functions, nested queries, queries involving multiple clauses, binning, and aggregation functions. It can query multiple table types, including fact tables, dimension tables, junction tables, and star and snowflake schemas.
You can hook up multiple data sources to Qbo. For example, it can connect to the sales database on MariaDB and the inventory database on Oracle. When a user asks a question, Qbo can convert it to a query and route it to the appropriate database to fetch the results.
Unsupported
Qbo does not support:
Multiple data sources that have the same entity names.

Queries that span multiple data sources. If you need to query across data sources, we recommend using technologies like Apache Presto.
This section will take you through the configuration steps you need to add a new data source, select the tables that will be used by the QueryBot, and configure the data model and analytics against the selected tables.
Data source configuration
New data source
---
To add a new data source, browse to Settings > Data Sources and click the Add a new data source card.
Related Videos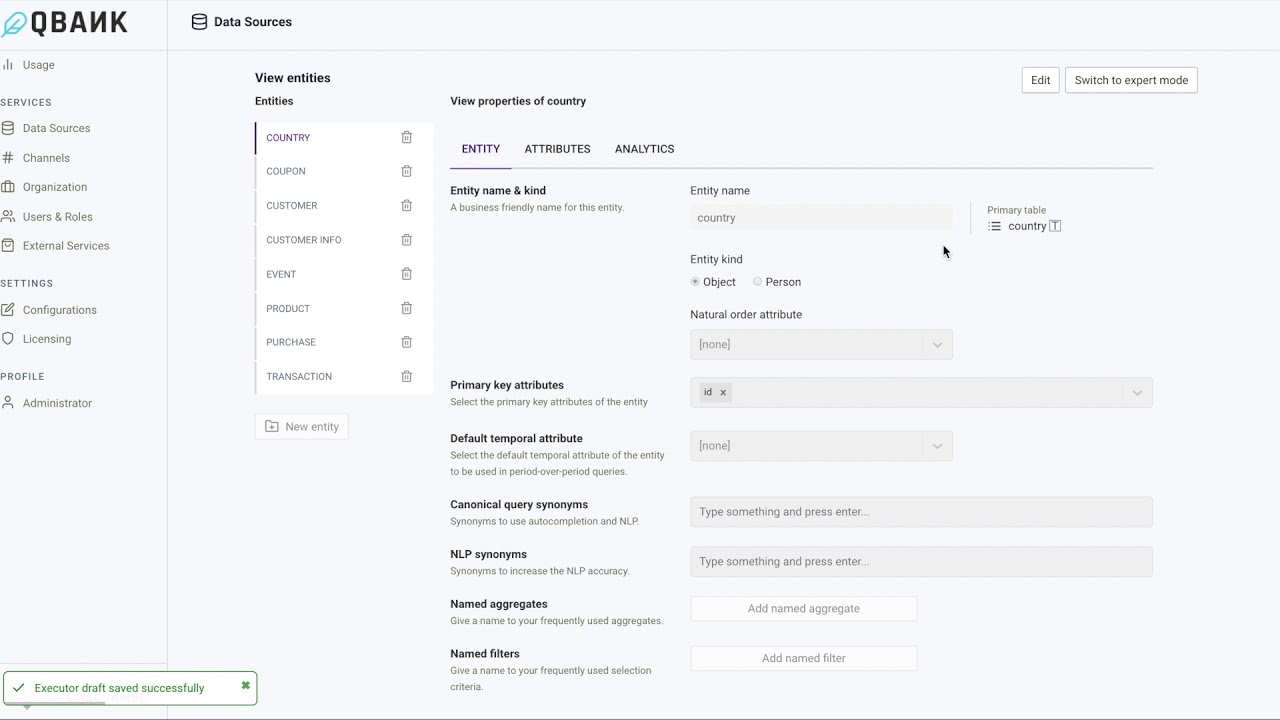 Add a new data source
Enter a name for the data source and select the type of data source.
Note
Qbo supports these on-premises databases:
Impala

JavaDB

MariaDB

Microsoft SQL Server

Oracle Database

PostgreSQL

Presto

Trino
Note
Qbo supports these cloud databases:
Athena

AzureSQL

Azure Synapse

BigQuery

Databricks

Dynamics365

HubSpot

Redshift

SAP HANA

Salesforce

Snowflake
Note
Qbo supports these file upload options:
If your data sources are not listed above, please get in touch with helpdesk@unscrambl.com and the team might be able to assist you. Additional data sources are being added continuously.
The next screen asks for credentials corresponding to the selected data source.
Configure the data model
---
Each table in the data model configuration is treated as an entity. You can edit these entities, specify relationships between them, add or remove attributes, and configure analytics for them.
Select the entity you want to edit from the list on the left. Entity configuration, attributes, and analytics are grouped in tabs at the top of the panel.
Note
Expert mode allows you to view the JSON format of the data model. Click the Switch to expert mode button to enable it. There are three sections visible, showing entities, attributes and their relations. These 3 are grouped as 3 tabs on the top of the panel, for each entity using three models.
Entity-Relationship Model

Querybot Entity-Relationship Model

Querybot Relational Entity Mapping
Overall Analytics Framework
---
Qbo can perform analytics that can be broadly classified into 4 categories: Descriptive, Diagnostic, Predictive and Prescriptive. To read more about them, see Analytics configuration. The Overall Analytics Framework will help you to set up analytical recurrences from the data source and global configuration. This will help you to create recurrences and look at how to run them.
Global configuration
Qbo creates a separate table to store the output of the various analytical models that are running. Setting up the global configuration will allow you to connect to the database and get access to that table.
Go to the Settings page, click Analytics.
Input the data source connection information and credentials:
Host: 127.0.0.1

Port: 3306

Database prefix: chai

Username: chai

Password: Confirm with IT Team

Schedule: Schedule the recurrence on a daily, weekly, or monthly basis, as needed.
Click the Save button.
Setting recurrence in the data source
Recurrence settings determine how often Qbo should compute analytics using configurations on the entity level.
Define the recurrence parameters using settings available in the data source. To set the recurrence, click Update analytics configurations.
To enable analytics on the data source, click Enable and add recurrence to any of the available options. Visible options have been previously configured.
In this example, the recurrence is set for Correlation Analytics, but this can be configured for other analytics as well. Select the recurrence time and frequency to refresh the correlation analytics configuration.
Running analytics
Once configuration is complete at the global and data source levels, run the analytics from Qbo's UI.
Click the Run now button on the Update analytics configuration page.
When the analytics have run successfully, you can query the data.
Analytics configuration
---
Qbo can perform analytics which can be categorized as:
Descriptive: What happened? - variance and correlation queries.

Diagnostic: Why did it happen? - automated insights and clustering.

Predictive: What will happen? - association rules and forecasting.

Prescriptive: What should we do about it? - inventory optimization.
A key design direction for Qbo is that analytics must be configurable by users without any coding, and without necessarily needing deep knowledge of machine learning or statistics. We believe this will make analytics accessible to a much larger segment of users.
With this goal in mind, Qbo comes with several built-in algorithms for performing algorithms. Each of these algorithms have been tuned to be able to work on a wide variety of datasets. You can configure them to give direction to Qbo on various ways to explore the data that can lead to higher quality insights.
First, let's define a few basic concepts related to analytics:
Metric: A measurable quantitative value in the dataset, like total count or average revenue. Metrics are usually computed by aggregating values from one or more attributes. In Qbo, metrics are also called named aggregates.

Dimension: Any attribute that can be used for grouping the entity. Usually, these are string attributes like city and product category. However, they can also be numeric attributes like age.