Boards
---
Each conversation thread has its own board. You can save important query outputs - like charts and texts - by adding

them to the thread's board.
View to expand vizies
---
To add an insight to a board:
The query insight opens in a separate window showing the query insight in detail.

Hold the pointer over a graph to view detailed values.
We have
button available with vizy response, it allows us to quickly add a vizy (or a vizy group) to the board from the conversation without View it.
See more available vizy options in the Explore Vizy Options section.
Explore board options
---
Once the vizy is added to the board, users in the conversation can play with the data it displays.
You can pin insights to a board as well as charts. These insights, displayed on a board, are called vizies.

You can change a vizy's layout, use it in presentation mode, remove it from the board, or download it as a pdf.
Related Videos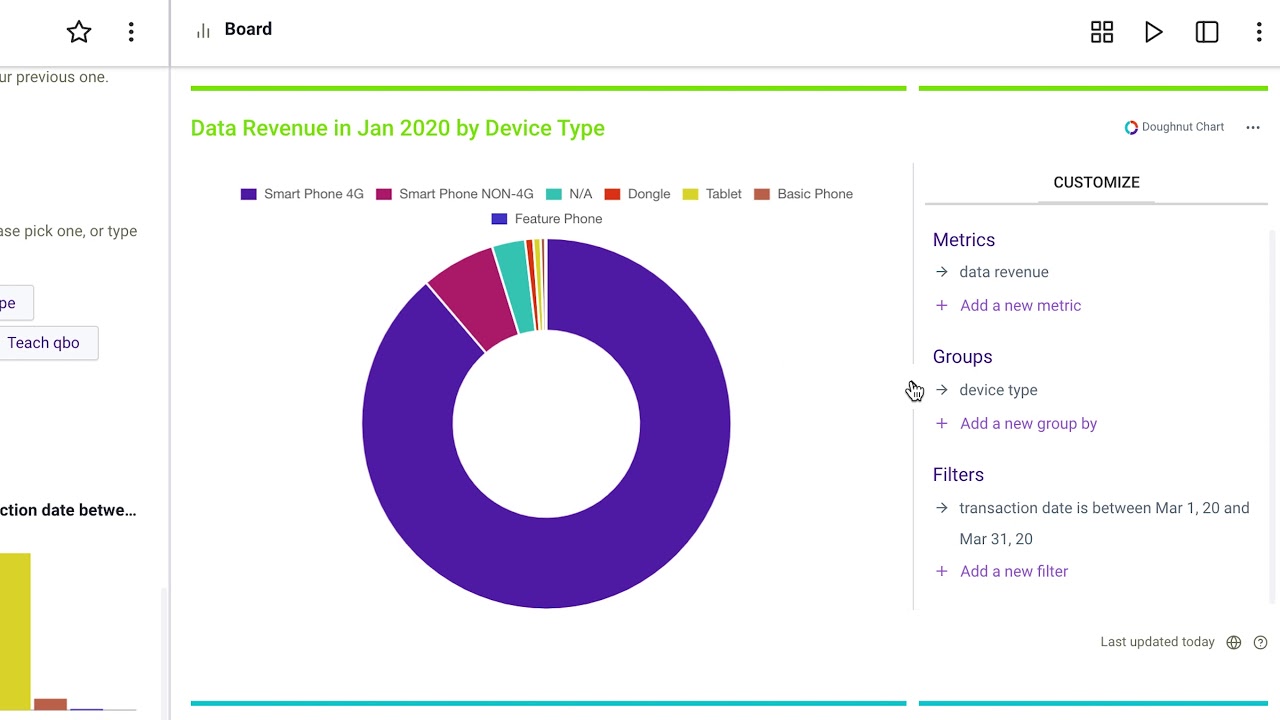 Pin and play with Qbo boards
Drill down and compare from charts
---
You can refine the existing vizy output using drill downs. To drill down, right-click on the vizy and select an option.
For example, this vizy shows the spending analysis of different card networks:
To analyse AMEX card spending by age group of users, right-click the AMEX bar, click Drill down AMEX, and select an age group.
Attention
The compare icon will only be visible when the metric (aggregate) has been set up in the variance analysis configuration.
Analytics in board
The analytics in board feature allows users to run analytics questions from the board. If an attribute or an aggregate has any analytics defined, the
analytics icon will be displayed right beside it. You can click this icon to see the list of available analytics for that metric.
Board filters
You can filter all vizies on a board using a board filter. Find available board filters in the listed at the top of the board.
You can enable or disable a board filter for a specific vizy.
To convert a vizy filter to a board filter, click the board icon next to it.
Edit and remove board filters
You can edit or remove board filters. When you update the value of a board filter, it affects all the vizies in the board that uses it.
Combine board filters
You can combine multiple board filters on the same attributes of different entities to form a single board filter on that attribute.

Hold the mouse pointer over a board filter. If attributes of different entities match, you'll see a Combine Filters option.

Split filters
You can separate combined board filters into separate entity level board filters.

New text vizy
It will allow you to create vizy for required business KPI manually. You can calculate business KPI results in your existing application and prepare vizy in board. It will be useful for representation of key business metrics.
For example, you have to analyse total sale in the 3rd quarter of year 2021 which includes Number of leads, conversions and revenue . You can find sales details in the existing application or calculate it manually. Now prepare vizy with required sales details in the board.
Steps to prepare New text vizy are as follows,
1. Go to board section and click on three dots present on right corner of the board. Now select New text vizy option highlighted in section given below,

Fill the required vizy components are as follows,
3. After filling above details click on save button to complete the vizy. Vizy will be created in board as follows,

Further you can add some description to the vizy. Description will allow you to add some key notes for the vizy. For example, you can compare direct and partner sale along with business KPIs leads, conversation, revenue and determine their performance.
You can add description as follows,